Chip shop could open in former post office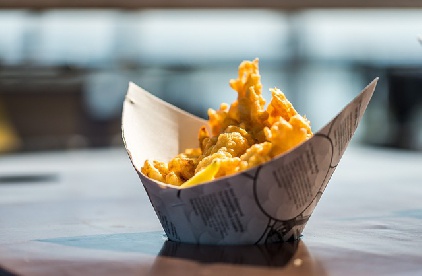 By Christian Barnett - Local Democracy Reporter
A fish and chip shop could soon be opening in a former post office.
Plans have been put forward to convert the former Dines Green Post Office into a fish and chip shop which closed almost three years ago.
Dines Green Post Office off Gresham Road in Worcester closed in September 2017 and has been empty ever since.
The Post Office confirmed in October 2018 that it would not be reopening and the plans are the first to be put forward for the empty building in more than 18 months.
City councillor Richard Udall, who represents St John's, said he had mixed opinions about the plans and whilst he was disappointed to see the final nail in the coffin for the Post Office reopening he was glad the empty space would finally be used.
"I'm pleased that the store is finally going to be used for something useful but I think it's incredibly disappointing and it is a missed opportunity that we're losing a post office in the second largest social housing estate in Worcester," he said.
"It had a purpose, it had a customer base and a loyal following, it closed for non-commercial reasons and there was definitely a demand for a post office on the estate so it is sad that is not going to happen and we are going to lose that opportunity.
"Having said that, I don't see any planning reasons for refusal for a fish and chip shop but I am just more than a little bit sad that we couldn't have something a little bit more healthy like a fruit and veg shop in Dines Green.
"Overall, disappointing but I'm glad it is going to be used for something."
The fish and chip would be open six days a week between 11.45am and 2pm and again between 4.30pm and 9.30pm according to the plans and could join Chinese takeaway Good Fortune, tanning salon Tanning Lounge, an Age UK charity shop and a Co-op supermarket.
Fish and chip shop Hooked in Broadway Grove sits just over half a mile away.
Chels Arnold, who lives in Dines Green, said: "In my opinion, this is not the best of options.
"We have so many chip shops that are in range.
"We need something that can benefit people and children, like a fruit and veg store or something handy. We have loads of takeaways.
"It's just ridiculous if you ask me."