Council's plan to ward off gulls will cost over £70,000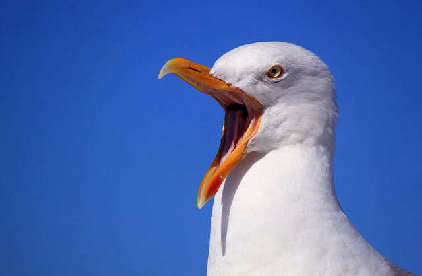 The council is planning to play recordings of birds in distress in a bid to drive gulls away from the city.
Worcester City Council said it will be stepping up its work to ward off 'dive-bombing' gulls, which have been known to attack people and steal food, as part of new plans for next year.
Councillors approved upping the city's gull control budget next year by £40,000 at a meeting in the Guildhall on Tuesday – bringing the total estimated cost to £74,500.
The city council has also said it will fly hawks in more areas of the city, help landlords pay to make buildings 'gull proof' and flashing lights to ward birds off.
Three gull nest 'exclusion zones' would also be set up in areas around The Tything, Weir Lane and Lower Wick and Fish Street and Copenhagen Street– installing spikes, cages and nets – to make sure there are no nesting birds in each area.
A report, which was discussed by the council's environment committee on Tuesday, said hawks would be flown five days a week in dozens of areas of the city from February to May next year and the council would continue its work to remove eggs, nests and birds.
This year, the council removed 141 nests and 223 eggs, and rescued 29 chicks which were rehabilitated and then released into the wild around the coast.
Gull-proof measures were introduced at 13 properties around the city and a giant cherry-picker has also been used to remove nesting materials from the tops of buildings after the nesting season had ended. This could be used again next year but would cost at least an extra £11,000 on top of the bigger budget.
This summer the city council flew hawks for the first time in the worst-affected spots to try and scare the gulls away.
Whilst there may be only a few gulls in Worcester at the moment, the birds terrorise residents, shoppers and businesses during nesting season in the spring and summer months.
Gulls have been known to dive at people out walking or shopping, leave mess on pavements and buildings and leave some residents unable to sleep through early morning screeching.
By Christian Barnett - Local Democracy Reporter