Empty office block could become flats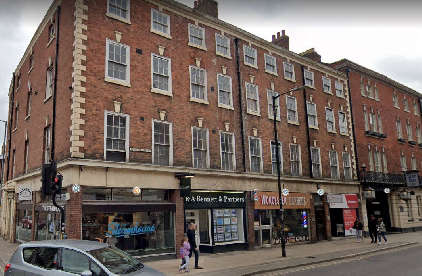 An empty city centre office block looks set to be converted into flats under new plans.
Victoria House in Worcester's Foregate Street would become 14 flats under proposals by the Barnett Property Group.
The upper floors of the grade II-listed have been empty for several years and has fallen into a state of disrepair.
A statement included with the application said: "The building throughout the upper three floors has stood empty now for a number of years and signs of disrepair are beginning to appear due to the lack of use and ongoing maintenance that goes alongside occupation.
"It is clear, that not just in this building, but buildings of very similar use, size and nature, its previous use as a functioning office is no longer desirable.
"There are many examples of this situation in close proximity to Victoria House such as Pierpoint Street, Castle Street, Shaw Street and Foregate Street, all of which have been converted from previous office use to a use that is more desirable and sustainable.
"The previously mentioned examples were all buildings that were utilised as office space, but all lacked the same basic amenities such as car parking, lift access, modern high speed internal services and easy access in and out of the city.
"As such, when marketed as office space, they became unsuccessful in doing so and remained unoccupied and run down.
"All of these buildings have now been subject to a residential conversion to either apartments or houses of multiple occupancy and are now fully occupied and receiving continued maintenance and up –keep.
"It is with this in mind and the similar characteristics that Victoria House has to these example properties, that we intend to convert the building into a scheme of 14 self-contained residential apartments.
"This will ensure that this heritage asset will also benefit from ongoing upkeep and maintenance ensuring the building stays in the same high-quality condition it is now."
Parking spaces for 14 bikes would also be included but no car parking spaces would be provided.
By Christian Barnett - Local Democracy Reporter