Make It Worcestershire celebrates manufacturing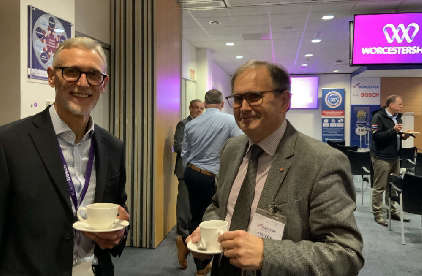 Worcestershire manufacturing companies have gathered to launch a new campaign celebrating the county's vibrant manufacturing sector.
The Make It Worcestershire campaign for 2022 launched at an event last night hosted at Worcester Bosch, shining a light on the thriving manufacturing sector that currently exists in the county, as well as looking forward at how we can keep it growing.
This is the third phase of the successful wider Make It Worcestershire campaign that has previously focused on supporting local producers and growers by encouraging residents to Buy, Eat, Sell and Stay local.
Food at the event was all locally sourced by companies that choose to Make It Worcester, such as Croome Cuisine and Top Barn.
Several of the county's manufacturing support initiatives attended the event.
These include: The Manufacturing Growth Programme, Made Smarter, H&W Chamber Manufacturing Forum.

Representatives from the county council's business support programmes including Elevate, Worcestershire Innovation, Here2Help Business and The Low Carbon Opportunities Programmes were on hand to help attendees understand the help and support available across the county to help businesses to thrive.
Representing One Worcestershire at the launch event, Richard Soper CBE, outlined the campaign for 2022 and how businesses could be part of elevating Worcestershire's manufacturing sector.
Richard Soper CBE, One Worcestershire sponsor, said, "The launch event for phase 3 of our Make It Worcestershire campaign, was a huge success. It was fantastic to see the support for Worcestershire manufacturing and the enthusiasm for representing Worcestershire locally, regionally and nationally through the sector.
"The first phase of the campaign have done an excellent job of helping to raise the profile our county, and remind visitors and businesses what we in Worcestershire have to offer in a really difficult year. As we move into focussing on manufacturing will be hoping to build on this and show people that Worcestershire is an area that deserves recognition for great quality manufacturing."
It has been set up to focus on supporting and showcasing Worcestershire's fantastic manufacturing sector locally, regionally, and nationally, striving to elevate Worcestershire's position and recognition as a known area for quality manufacturing.
To get involved with Make It Worcestershire http://www.oneworcestershire.com/makeitworcs