Mayor donates 10,000 masks to NHS in Worcestershire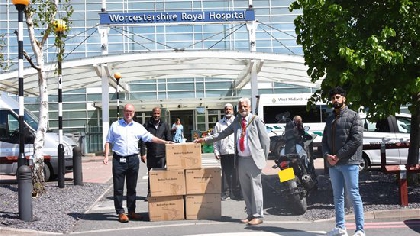 The Mayor of Worcester, Cllr Allah Ditta, has donated 10,000 masks to the Worcestershire Acute Hospitals Trust, to help protect NHS staff as they continue to treat patients during the COVID-19 pandemic.
The masks have been paid for by the Worcester Muslim Cemetery trustees.
"The coronavirus pandemic has been particularly devastating for ethnic minority communities across the UK, who make up 20% of the total NHS workforce," said the Mayor.
"Trustees at the Worcester Muslim Cemetery have donated generously to my fundraising appeal for 10,000 masks. We'd like to thank everyone working in the frontline at the NHS and all the home carers for your incredible work and bravery.
"I'd also like to remind Worcester's Muslim community of the importance of maintaining social distancing throughout the period of Ramadan. I know how hard this is, but local people's efforts to stay at home are helping to save countless lives. We must continue to follow the official advice, in order to prevent a second wave of infection."
Sir David Nicholson, Chairman of Worcestershire Acute Hospitals NHS Trust, said:"Our hospitals are for all our communities and it is particularly significant to receive this donation of much needed equipment from a part of our community that has been disproportionately hit by Covid 19.
"Our staff are working tirelessly to respond to the Covid-19 outbreak and the generous help and support we are receiving from our local communities is uplifting and incredibly humbling."