Over 100 emergency food parcels delivered to the most vulnerable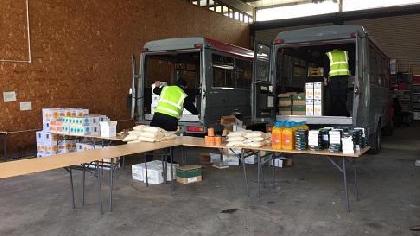 Some of the most vulnerable people in Worcestershire are being provided with emergency food supplies, delivered by staff from the County Council.
Over 100 elderly and highly vulnerable residents across the county, have been receiving parcels delivered to their homes, filled with essential food.
The boxes contain basic provisions designed to be a stop gap measure.
Those most vulnerable were identified through the Government's Shielding Communities initiative. This group of people were sent a letter from the NHS informing them they are considered medically extremely vulnerable and asking them to fill out an online form to ensure they get the help they need.
The Government is co-ordinating the multi-agency response to the needs of these residents. The County Council is working closely with District and Parish Councils and with voluntary organisations from across the county to support those who need help.
A list of registered vulnerable people in Worcestershire was sent to the County Council to help staff identify residents who should receive an emergency food delivery.
Food supplies were separated it into 104 boxes for residents, ensuring each box contained a mixture of basic fresh food and cupboard store supplies.
The food parcels have both perishable and longer life products such as; milk, bread, baked beans, instant soup, porridge oats, teabags, fruit and rice puddings.
8 vehicles have been out over a 24 hour period delivering to residents.
Leader of Worcestershire County Council, Councillor Simon Geraghty said; "Our teams have been working hard to ensure these essential supplies quickly reach our most vulnerable and in-need residents. All 104 boxes have now been delivered to people who need food urgently. We are pleased to be part of this large scale Government community initiative to provide support and care for the people of Worcestershire."
"The response to this difficult situation has been a joined up, one Worcestershire response. At the Council we are working very closely with our District Council colleagues, with Parish Councils, voluntary organisations and with the people of Worcestershire who are doing their bit to be good neighbours. I want to thank everyone for all of their work in this most challenging of times."
"The County Council remains committed to safeguarding our communities and continues to offer practical help through the Here2help campaign. We will continue to do all we can to look after our residents."
Residents considered to be the most vulnerable in our communities, have been contacted directly by hospitals or GPs or by NHS letter. Anyone in this category should contact https://www.gov.uk/coronavirus-extremely-vulnerable and fill out a form, to ensure they are given the support they need.
The County Council has launched a county wide community-based campaign, called "Here 2 help" to connect with users of our services, the elderly and vulnerable, and to liaise with those who are offering support and practical help in our communities. For more information go to http://www.worcestershire.gov.uk/here2help