Plans to revamp historic cinema for new music venue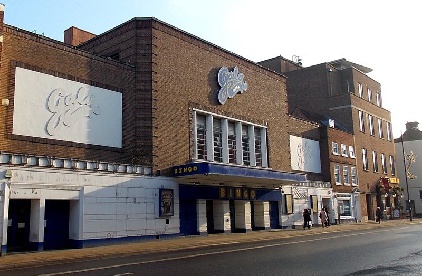 By Christian Barnett - Local Democracy Reporter
An empty historic theatre could be transformed into a music venue under new plans.
Worcester-born actor Sam Barriscale wants to raise money to bring the historic Gaumont Cinema in Foregate Street back to life as a music venue emulating its history when it hosted some of the biggest acts in the 1960s and 70s.
Mr Barriscale had been working for two years to transform the historic Scala Theatre in Angel Place into an arts cinema but after plans fell through, he has turned his attention to the Gaumont.
"Our initial plans are to make it a music venue," Mr Barriscale said.
"I think we can get some big bands. It will bring people into Worcester.
"The different groups I have been speaking, particularly those involved in music in Worcester, are so up for it.
"I think people are so desperate, and the lockdown has definitely exacerbated how desperate people are to have something positive happen to the city.
"It can be a place that has big names as well as local bands. It will be a chance for a local band to play in a venue that holds 700 people which is huge.
"There is a lot of love for the Scala and what I have seen so far is that people are willing to go with us on this one too. There is a lot of positivity there.
"People want to see the Arts brought back in Worcester and for it to be bigger and better.
"There's no reason why a place the size of Worcester can't have a big music venue.
"It will be good for Worcester."
Mr Barriscale has put very early estimates at a million pounds to achieve the ambition of buying the building.
"We had over 100,000 people interested in the Scala so what I am hoping is transfer at least half of those into a crowdfunding donation and actually buy the building and then we can go for grants and use local people to do it up.
"I would think it would be around the million-pound mark. That is 50,000 people donating £20. It's not as crazy as it sounds.
"I think that we could raise the funds and it will be owned by the city. The people own it and the people who are going to visit it own it and that's all for less than the price of a gig ticket."
The former art deco cinema played host to huge acts including The Beatles, The Rolling Stones, Jimi Hendrix, David Bowie and Mott the Hoople but closed permanently in July when Buzz Bingo Club announced it would be shutting several venues due to the coronavirus pandemic.
Mr Barriscale, who runs Ma Bakers in Warndon, hopes to mirror much of the work that had been planned for the Scala Theatre transformation as part of offshoot project The Truth Company.
He plans to take on people from marginalised groups including children that have been through the care system, recovering addicts and homeless people and provide training in various roles.
Mr Barriscale had to return several grants to various charities after the Scala plans fell through but remains very hopeful of getting the money back due to the interest in how the venue would be run and the ethics of the business.
"The amount of paid internships and take those kids that have not had the best start, train them up and get them employed in Worcester," Mr Barriscale added.
"The amount of employers I speak to that just want someone to turn up on time, with a smile, and be willing to learn, they don't need the skills. People are happy to teach the skills. Once they have a career, they have money and then they have choices."
IMAGE: © Copyright Jaggery and licensed for reuse under this Creative Commons Licence.