Seven-year-old is announced as winner of The Big Issue Kids Christmas cover competition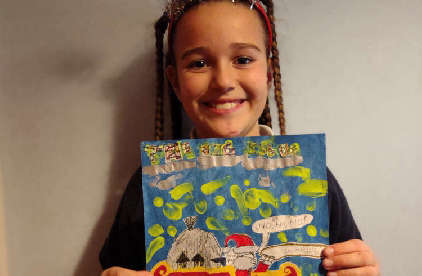 Seven-year-old Gabriela Beard from Worcester has been named the winner of The Big Issue's Kids Christmas Cover Competition 2021.
Gabriela's design, based around this year's theme of a 'Christmas Wish', shows how Santa can help fix the housing crisis. In the picture, Father Christmas is delivering houses to homeless people, thanks to his Shrink Vay gadget that makes them small enough to fit into his sack for easy transportation.
Gabriella's design was chosen out of hundreds and hundreds of entries and the magazine with her design as its cover is available to buy from Big Issue vendors across the UK from Monday 13th December.
Since the first competition in 2013, The Big Issue has seen thousands of bright entries from young readers. The winning images have lifted the spirits of customers and boosted sales for vendors.
Gabriela said she felt "very happy" to have her drawing on the cover of The Big Issue. She came up with the idea of Father Christmas delivering houses at Christmas by herself and said she enjoys art and "likes to scribble". Adding that she couldn't wait to go in to school to tell her Teacher Mrs Jones about her success, added that she'd like to wish all Big Issue vendors a Merry Christmas.
Gabriela isn't the only artist in her family, the judges were also very impressed by her sister, Isabella's entry. She and Isabella, 10, both entered the competition, and their mother Ana has been proudly displaying their entries in the front window of their home.
Ana, Gabriela and Isabella's mother, said "It's fantastic, I'm really thrilled, and she had a big smile when telling daddy about the competition! I think the whole school (Broadheath CE Primary School and Pre-School) will be very proud of her as we are a small school in the Worcester countryside!"
Ana worked at M&S in Worcester before the pandemic, and along with both her daughters, would buy The Big Issue from the vendor who used to sell at a pitch outside the shop, so the girls were aware of issues of homelessness. Ana added: "This lady worked very hard and for me it felt impossible not to share a few treats with her sometimes."
Paul McNamee, Editor of The Big Issue, said: "Every year, the Kids Christmas cover competition is something that everybody at The Big Issue looks forward to. The ideas and the joy bouncing off the pages lifts us all.
"This year, the theme of 'Christmas Wish' brought brilliant ideas. It's always the trickiest of decisions to pick just one winner from the hundreds and hundreds, but Gabriela's Santa delivering homes to those in need was so direct, glorious and simple, it had to be her."
Sean Toal, MD at WHSmith High Street, said: "As part of our sustainability strategy, WHSmith is committed to making a positive difference as we continue on our journey to a better business, and we are therefore delighted to be partnering with the Big Issue on this year's Christmas kids cover competition.
"Huge congratulations go to Gabriela Beard for the brilliant winning cover, and to the runners up for their fantastic designs; we'll be sending some very special prizes of WHSmith goodies to both Gabriela and the runners up. And a big thank you and well done to all who entered!"
We are living in uncertain times and life continues to be extremely challenging for Big Issue vendors. Please buy a copy of the magazine with Gabriela's special design from your local vendor or buy a subscription at www.bigissue.com/subscribe.