Storm Arwen brings busy weekend on Worcestershire's roads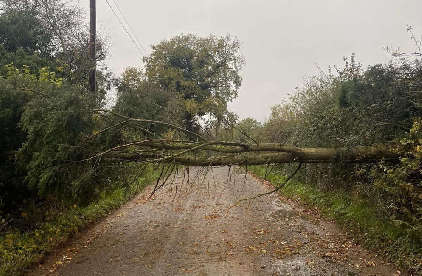 Worcestershire County Council highways staff faced a busy weekend preparing and clearing the county's roads, due to the impact of Storm Arwen.
The county was battered by strong winds on Friday night, followed by snow flurries and plummeting temperatures over the weekend.
Strong winds brought down over 100 trees across the county, with teams heading out to make the areas safe and remove the debris. Some major roads were affected, including the A443 by Witley Court, A456 at Blakedown, A449 at Cookley, A4133 Holt Fleet and A44 by Laylocks Nursery. There were some instances where roads were closed for several hours, with Council teams working tirelessly to reopen them as quickly as possible.
Gritters were in operation throughout the whole of the weekend, with 40 vehicles setting off from six highway depots. Primary and Secondary routes were gritted ahead of the predicted snowfall and the Winter Services Team was out and about monitoring roads across the county, in case any further action was needed.
Worcestershire County Council's Cabinet Member with Responsibility for Highways and Transport, Councillor Alan Amos, said: "A fantastic effort was made this weekend to help keep the county moving.
"Storm Arwen brought with it some very tough conditions and highways teams acted quickly to clear roads and keep them as safe as possible for local residents and people travelling through the county.
"It was a real team effort, working alongside the Police and contractors and I'd like to say thank you to everyone involved."