Student nurse joins family members on NHS Frontline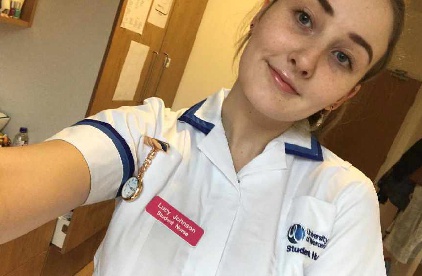 University of Worcester student nurse, Lucy Johnson, is joining other members of her family on the NHS frontline this week.
Lucy, of Penn Fields, Wolverhampton, has started a placement at Evesham Community Hospital, helping to rehabilitate stroke patients.
"I'm looking forward to it and it's good experience to make me more well-rounded as a nurse. I'm trying to get out there and help as much as I can," said the 21-year-old, who is in the second year of her Mental Health Nursing studies.
Lucy has wanted to be a nurse from a young age. Her sister is a doctor, her other sister a nurse, and her parents both work in a hospital immunology and biochemistry department.
She has been busy in the past few weeks combining her ongoing studies and deadlines with preparing to join the workforce. Lucy admits that the prospect of the work is daunting to her. "It's a mixture of emotions; it's excitement to be able to go out and help, it's nervousness because of the unknown and also that I'm leaving my family," she said. "But I have spoken to the deputy ward manager and he was really welcoming and it sounds like they're going to take me under their wing.
"There was never any suggestion that I wasn't going to help out in any way I could. Even if I wasn't called up I was going to do some volunteer work. Nursing is a massive part of me and I would feel guilty not to help. I want to go out there in this climate and spread a bit of positivity if I can and make people feel better and use my skills."
Lucy added that the support from the University and the Nursing lecturers had been "brilliant". "The information and the way they have kept us in the loop right from the word go has been fantastic," she said. "In terms of support, I feel as confident as I can be and I don't think the University could have done more."
The mental health side of nursing is what really interests Lucy and working with young people to target mental health issues at an earlier stage to improve their lives long-term.
Lucy, who chose to come to Worcester due to the extent of its training facilities and lecturers, which impressed her at the Open Day, said "I have loved the course; I couldn't imagine doing anything different. I think with nursing it's just the sense of achievement that you get. I have always wanted to work face to face with people directly in contact with them as much as I can. It's really good to know someone and understand their needs and what works for them. I want to be able to walk away from my work every single day saying I made a difference."