Three historic Worcester sites saved for future generations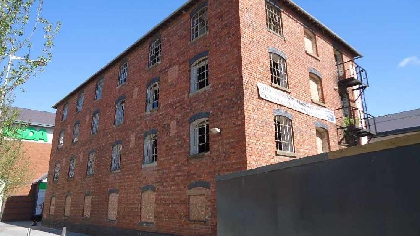 Three historic Worcester sites that were once at risk of being lost have been fully restored – and another six are in line for vital repairs.
The annual Worcester Heritage At Risk Register records buildings, scheduled monuments or historic areas that have suffered from neglect, decay or unsympathetic work and which need restoration work. The latest register shows that three sites on the 2019 edition are no longer classed as being at risk.
The location of Worcester's first infirmary in the 1740s, the Grade II listed 17th Century house at 18-20 Silver Street, that was last year noted as being in bad condition, has been fully repaired and is now occupied.
Repairs have also been made to the Grade II listed 19th Century building at 11 The Tything – last year listed as being in poor condition and best known as the home to Ashley's restaurant.
And the removal of heavy vegetation growth from the Victorian railway viaduct in The Butts, along with increased use of the arches, has also allowed the viaduct to be removed from the Register.
A report to next week's Worcester City Council Planning Committee also notes that another six are expected to come off the Register in the near future, as applications for restoration and repairs have been made:
1, 1a and 3 Angel Street – a Grade II listed 18th Century building occupied by two empty shops
12 Sansome Place – a Grade II listed 19th Century house
Wall, gates and piers, and gate lodge to the Grade II listed 19th Century Pitmaston House
The Grade II listed War Memorial in Lichfield Avenue, Ronkswood
The 19th Century former mill and Ice Factory in Bromyard Road, St John's
The former vinegar works granary in St. Martin's Quarter, built in the 1860s.
The purposed of the Register, which will be considered by the Planning Committee on February 20, is to help landowners and national bodies including Historic England to focus on initiatives and actions to rescue these significant sites.
Councillor Chris Mitchell, Planning Committee Chairman, said: "Worcester is a city with a remarkable history and the evidence of that is all around us in the form of buildings that stretch back to the medieval period, monuments like the Edgar Tower and the Glover's Needle and even the sites of historic battles.
"Sadly, not all these heritage sites are in the best repair but by updating this register each year we can spotlight the problems and focus the minds of land owners on initiatives and actions that can bring about improvements."
The 2020 Heritage At Risk Register lists 21 locations where improvements are needed – including the six sites where applications for improvements have now been made.
Two new sites have been added to the 2020 Register. 3 Green Hill is a Grade II listed residential home in Bath Road which is in very poor repair. Also new is the Gilding House (Block J), part of the old Royal Porcelain Works, which is described as being in a very bad state. Its owner is assessing options for the building.
Historic England runs a national Heritage at Risk Register which covers Grade I and Grade II* listed buildings, Scheduled Monuments, Registered Battlefields, Registered Parks and Gardens, and Conservation Areas. Worcester's own local Register goes further by also including Grade II listed buildings and structures, as well as locally listed heritage assets.