University donates IT Equipment to local schools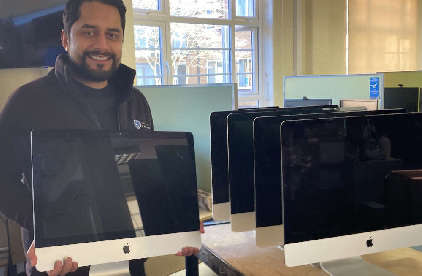 The University of Worcester has donated a host of computer equipment to local schools to help pupils with their learning.
The University put a call out to local schools and charities that would benefit from receiving IT equipment the University no longer requires.
So far, six schools have received around 50 iMacs between them.
Simon Gent, Headteacher at Claines Primary School, said: "We are extremely grateful for the six iMacs that we have received from the University of Worcester. It has further enhanced our digital provision in school so that children will be prepared for a personal and professional life that is, and will be, increasingly dominated by technology. Children will use the iMacs as a tool to be more creative and more computer literate."
Joe Burton, Network Manager at Christopher Whitehead Language College and Sixth Form, added: "Thank you for the iMacs. We will be using them to replace our extremely old iMacs in our ART department. We were originally trying to find a budget to replace them, but it's been very tough finding such a large amount of money but reaching out to the University has really helped us."
Chris Garratt, Deputy Director of IT at the University, said: "Unfortunately the equipment can no longer adequately meet the high processing demands of the leading industry software that is being used by our students as part of their courses at the University, but we are really pleased that these schools are benefitting from this equipment.
"Up until now we have had the equipment picked up by a third party recycle company, but we felt it would be better to offer it to the local community as they could still get some use out of it.
"The feedback was overwhelming, and we now have a network of schools and charities that we can approach if we have any computer or audio visual hardware that we no longer require."