Winter Mini Challenge launches for 2021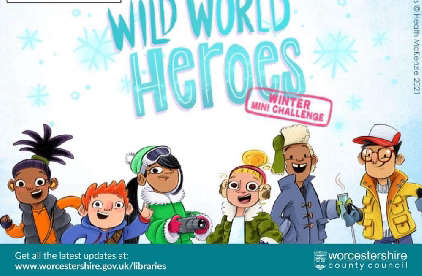 The Winter Mini Reading Challenge for 2021 has been launched in Worcestershire.
In a year of raising awareness about the environment, children are being encouraged to become Wild World Heroes by completing the challenge.
The theme of this year's challenge is becoming a hero of the wild world we live in, and follows on from the rainforest theme of the Summer Reading Challenge.
The challenge encourages children to go on an Arctic Adventure; read at least three books during the winter period, and find out a little bit more about the creatures that live there and the environmental issues this part of the world is facing along the way.
Once children have read their books, they are then asked to upload the details of the books they have read to their online profile and write a shor review for each one.
The challenge will run through to Sunday 15th January, providing plenty of opportunities for cosy winter nights on the sofa reading.
Children will be able to visit their local library to find their favourite three books to read during the festive period.
Once three books have been read and reviewed, children will receive a limited-edition virtual badge and a special Winter Mini Challenge certificate to print off and keep!
Councillor Matt Dormer, Cabinet Member for Communities, said: "Reading challenges have been immensely popular over the years with our young readers across the county, and the Winter Mini Challenge is another opportunity to become a bookworm. It's a perfect way to make your way through those books you've been wanting to read this winter and I would encourage our younger readers to get involved and help to put Worcestershire on the reading challenge map.

"We know that children's reading levels can drop off over the school holidays. Visiting the library, joining the Winter Mini Challenge, reading with your child and encouraging them to get excited about reading is really important and this challenge is a really fun way to keep reading fun over the festive season and in to the new year."
Children can join the Winter Mini Challenge website www.wintermini.org.uk , start rating and reviewing their books and enjoying the online activities.