Worcester City Council provides support to flood victims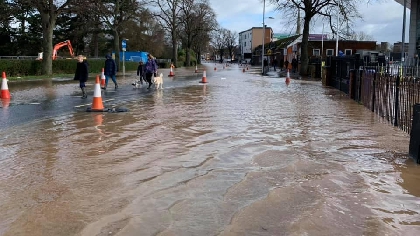 Worcester City Council has announced that immediate financial support will be provided to homes and businesses that have been hit by flooding following the impact of Storm Dennis.
Householders who have been flooded will be given 100% Council Tax relief and firms will also get 100% relief on Business Rates if they have been hit by the extreme weather event. In both cases the discounts will last for three months.
The announcement follows the Government's confirmation of a package of support for councils in flood-hit areas.
For homes and businesses where the City Council already has confirmation of flooding, notification of the relief will be sent out by post or email, depending on how people have chosen to receive their Council Tax or Business Rates bills.
Any householder or business that has been flooded and thinks they may be eligible for this support can apply now.
Flood-hit households can apply to the City Council for up to £500 in financial hardship payments to give cash quickly to those in short-term need.
Business Recovery Grants of up to £2,500 will also be available for small-to-medium sized firms that have been flooded and suffered severe, uninsurable losses.
For longer term support, grants of up to £5,000 will be available to flood-hit homes and businesses to help them to become more resilient to flooding in the future.
Apply for flood recovery financial support.
Worcester City Council Leader Councillor Marc Bayliss said: "I welcome the Government's announcement of this support programme and I am pleased that we are able to act quickly to give financial aid to homes and businesses that have been hit so hard by these devastating floods.
"I would encourage anyone who has been flooded and thinks that they require Council Tax or Business Rates relief to make contact as soon as possible.
"All this comes in addition to the multi-agency recovery operation to help people hit by these floods, in which Worcester City Council is a very active partner."