Worcester City Council to support Broad St traders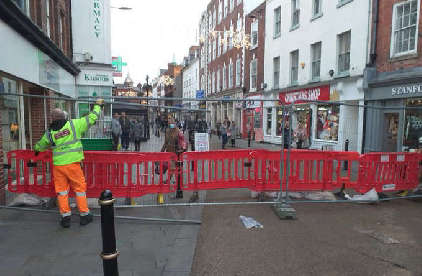 Worcester City Council has announced a programme of support for traders affected by the closure of one of the city centre's busiest shopping streets.
The lower part of Broad Street has been closed at its junction with Angel Place while emergency work is carried out to make safe a building owned by the Crown Estate.
The road closure coincides with the city's Victorian Fayre, one of the busiest times in Worcester's calendar, and the independent traders still open there are concerned about the potential loss of business.
Now the Council is taking action to support those traders.
The City Council is putting a children's fun fair ride in lower Broad Street, next to the affected traders, to entice visitors and shoppers to visit that part of the city centre. The Council will subsidise this ride, so that children can enjoy it free of charge.
The Council will also provide financial support to the lower Broad Street businesses that have not been legally required to close, utilising Covid business grants funding from the Government.
Worcester BID (Business Improvement District) is putting signs in place in the area to make shoppers and visitors aware that the businesses are still open. Pedestrians can reach lower Broad Street from Angel Place through CrownGate shopping centre.
Council Leader Cllr Marc Bayliss said: "The road closure has hit Broad Street traders hard, and with the Victorian Fayre running from 2 to 5 December the timing couldn't have been worse, with the risk of them losing some of the Christmas sales they would normally enjoy.
"We have pulled out all the stops to help them, and I hope these steps will encourage shoppers to make the most of what these traders have to offer and that the businesses will appreciate the financial support we are providing."
The Managing Director is also dealing directly with Crown Asset Management and seeking urgent assistance to support the independent traders affected by the road closure.
The building at 53-54 Broad Street, recently home to Poundland, is owned by the Crown Estate and has been undergoing a programme of repair work since May.
The City Council was alerted by the building contractor on Friday evening (24 November) of a potential risk to public safety posed by the Grade II listed building, and worked with Worcestershire County Council to put a road closure in place.