Worcester Foodbank feeds off community spirit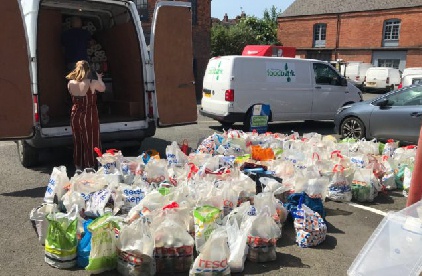 Worcester Foodbank has hailed the extraordinary generosity of the local community which has left its warehouse bursting at the seams.
The charity has been swamped with more than 30 tonnes of donations since the start of April after people rallied behind its efforts to support the growing number of households impacted by the coronavirus outbreak.
Two-thirds of the donated supplies have already been swallowed up with volunteers feeding just over 1,000 people in April alone – making it the second busiest month since food bank opened its doors 8 years ago.
But manager Grahame Lucas said the outpouring of support had left the charity in a much stronger position to deal with the economic slump which is expected to follow the lifting of lockdown.
Mr Lucas added: "Lockdown may have kept us apart but the community has stood together to tackle hunger and make sure those at the sharp end of this crisis get the lifeline they need."
"In many ways this crisis has brought out the best in us but we know there is no room for complacency and for some people the hardship is only just beginning."
The surge in donations has been fuelled by a wave of street collections organised to coincide with the Clap for Carers on Thursday nights. The idea was originally inspired by Worcester City FC Chairman Steve Goode and has spread like wildfire across the city.
But the groundswell of support had left the charity struggling to find space to store new supplies until neighbouring Freedom Church stepped in to provide some temporary storage.
Food bank is now urging supporters to consider donating supermarket gift cards or money so it can buy the items it needs most when it needs them.
You can find out more about how to support food bank at www.worcester.foodbank.org.uk