Worcester Theatres' Beauty & the Beast finishes their Panto run in triumph!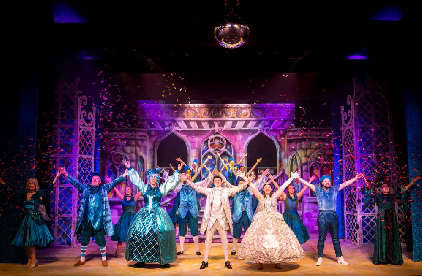 Worcester Theatres brought their famed family pantomime back this year with Beauty & the Beast, and the tale as old as time was a huge hit with Worcestershire audiences.
Despite uncertainties surrounding the pandemic for everyone this season, the cast, crew and staff at Worcester Theatres worked hard to ensure the safety of themselves and their audiences throughout the pantomime run, and in return they received glowing feedback for each of their performances.
Many theatres were affected by Covid-19 during the panto season, with some having their performances delayed, interrupted, and even cancelled. The Worcester Theatres team managed to make it through a total of 59 shows, the most shows performed of any panto in Worcestershire, which seems like an incredible achievement during these difficult times.
Sarah-Jane Morgan, Chief Executive of Worcester Theatres said "I was simply delighted to get through the complete run of Beauty and the Beast. A 59 show run, plus two week rehearsal period is a tremendous task to undertake at any time but in the current climate some may have thought it near impossible! I was so grateful to make it safely through the complete run when other theatres across the country were sadly forced to close early due to the pandemic. Our patrons from Worcester and the wider 'shire' were utterly fabulous and supported us with a commitment that was so heartfelt, flooding through the doors of the Swan Theatre proving their undying support for live theatre and the arts in the city."
Audiences both old and new commented on the exceptional quality of the Worcester Repertory Company cast, the set design, the music and the overall atmosphere created at the Swan Theatre.
Theatre blogger and reviewer John Philpott had this to say "Worcester Rep has undoubtedly built on the city's proud panto tradition to deliver a Christmas cracker of a show. This is indeed a show that explodes with talent!"
Worcester Theatres and the Worcester Repertory Company will be back later in the year with Cinderella, from 29th November 2022 – 02nd January 2023, performing at the Swan Theatre.