Major bridge and crossing improvement work to get underway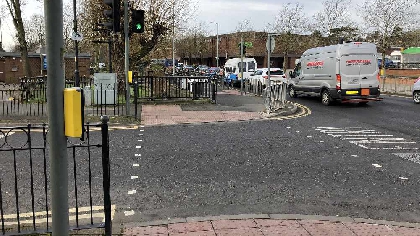 Work to improve walking and cycling crossings on Market Street and Mill Lane in Bromsgrove is set to get underway later this month.
The footbridge across Spadesbourne Brook is being replaced with a wider bridge to provide improved connectivity between Market Street and Mill Lane. Then the controlled crossing points on Market Street and Mill Lane are being relocated to ensure they align with the bridge to improve pedestrian safety in the area.
This work is part of Worcestershire County Council's scheme in Bromsgrove to improve walking and cycling routes across the town.
Councillor Ken Pollock, Worcestershire County Council's Cabinet Member with Responsibility for Economy and Infrastructure, said: "This is a very busy part of Bromsgrove, with a lot of people using these crossings. It's important that we make the area as safe as possible for cyclists and pedestrians and therefore, these upgrades are essential.
"This is another example of a wide range of works that are happening in and around the town to improve the walking and cycling network."
Work will start on Monday 16 March for up to 10 weeks. During this time there will be work on the footways and carriageway and later on in the scheme, will include temporary traffic lights and overnight closures.
Whilst the existing crossings are being relocated, alternative crossing points will be provided, and these will be clearly signed.
The taxi rank will move to the other side of Mill Lane to ensure that people can get a taxi from the footway rather than crossing the carriageway. The footways between Church Street and the Market Street/Mill Lane junction will be improved to allow shared usage for cyclists and pedestrians.