Solar farm could be built on green belt between Worcester and Droitwich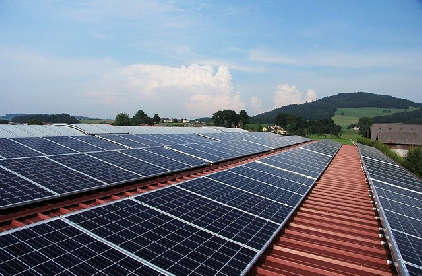 A solar farm could be built on green belt between Worcester and Droitwich under new plans.
The application would see hundreds if not thousands of solar panels installed on­­ 21 acres of green belt off Droitwich Road near to Drury Lane in Martin Hussingtree.
The solar farm would use double-sided 'bifacial' panels, put on a tracker and lifted up to three metres in the air to catch more sunlight on two surfaces and create extra energy.
The applicant Ecotricity has requested a screening opinion from Wychavon District Council which means a brief plan will be assessed to determine whether it will need an environmental impact assessment ahead of a full planning application being submitted in the future.
Approving the application would see the green fields used as a solar farm for up to 40 years before being handed back to be used as it was originally intended.
A statement included with the application said: "Through the utilisation of natural sunlight, the facility will generate renewable energy for distribution onto the National Grid network. This will support the local and national renewable energy targets and ultimately reduce the reliance on finite fossil fuel-based sources as a form of energy.
"The proposed development has the capability of generating up to 4,000 megawatt hours (MWh) of electricity to the National Grid and therefore supports the government's targets towards achieving net zero.
"The nature of ground mounted solar PV is both temporary and reversible, allowing the site to be restored to its former agricultural use.
"The proposed development will also provide biodiversity enhancements through new planting which is proposed at all boundaries.
"In addition, there is also approximately [half an acre] of wildflower planting proposed at the southern end of the western field.
"In combination, these new areas of planting will support a diverse range of critical invertebrate species and encourage new species to colonise the margins of the site.
"There are further opportunities for habitat creation though the implementation of wildlife corridors and the installation of bat and bird nesting boxes, hibernacula, open sandy faces, woodpiles, and beehives."
By Christian Barnett - Local Democracy Reporter